More and more tarot cards are appearing in the tarot market. The Tarot Reader may be confused when selecting the tarot cards for learning, reading. This article will introduce you to the types of tarot cards and choose the best one for you.
Directory:
Three Tarot systems
Questions before the purchase
Other key points to be considered
Five significant tips for buying the Tarot brand
Tarot card recommendation
Three tarot systems
There are roughly three popular types, one is the Weite Tarot, the second is the Tote Tarot, and the third is the Marseille Tarot.
I. Waite Tarot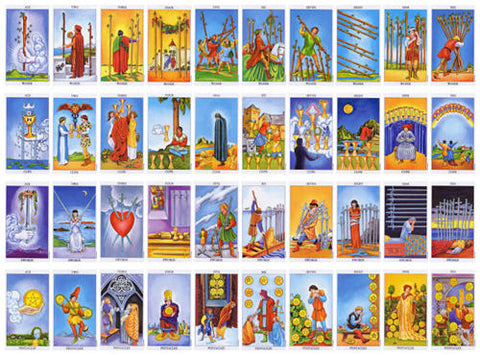 Waite Tarot was founded by Arthur Edward Waite (1857-1942), a member of the famous Golden Dawn Society, and illustrated by Pamela Coleman Smith.
Waite Tarot is the most influential and most widely sold tarot card.
Waite Tarot deck was officially released in 1910 and has become famous around the world for three main reasons:
1. Waite Tarot has specific story images to explain the meaning of the tarot, which is easy to understand and has the occult connotation.
2. Author wrote a book explaining the Tarot principle and divination, called <The Pictorial Key to the Tarot>, which was attached with the card.
This behavior makes Waite Tarot perfect for beginners to learn and read.
3. Published in 1910, it was all in English, and with the strength of the British Empire at the time and the rise of the United States, the tarot gradually spread to the world.
So far, there are at least hundreds of Tarot cards designed by Waite Tarot, and more than 70% of the English Tarot books are written with the Waite Tarot as the template, so to choose a set of international standard versions from many Tarot cards, the first choice is Waite Tarot.
II. Thoth Tarot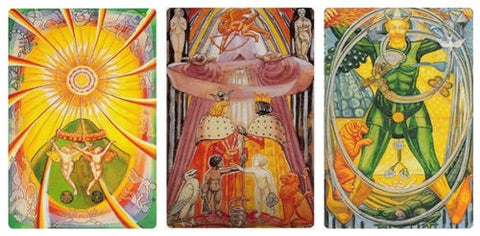 The controversial modern mystics created it, Aleister·Crowley(1875-1947), who spent five years (1938-1943) incorporating astrology, Kabala, Easy Sutra, mythology, alchemy, and magic. Its painting style is unique and abstract aesthetic feeling, and the depth of the content is beyond most of the previous tarot cards. According to experience, people who have used this card think that the repair function of this card is greater than the divination function, so the Tote card in the tarot card for repair can be said to be the most respected.
III. Marseille Tarot
The Tarot of Marseilles comes from the famous French port of Marseilles. This kind of tarot card is pervasive in France, can be used for recreation, can also be used for divination.
In France, Marseille tarot cards, like ordinary playing cards, can be used for recreation.
Many people play card games with the cards of Tarot Marseille.
The design of Mataro is very simple.
Questions before buying the Tarot card
Before you choose a tarot deck, ask yourself these questions:
What goals do I want to achieve?
What do I plan for using this card?
What achievements do I want to achieve?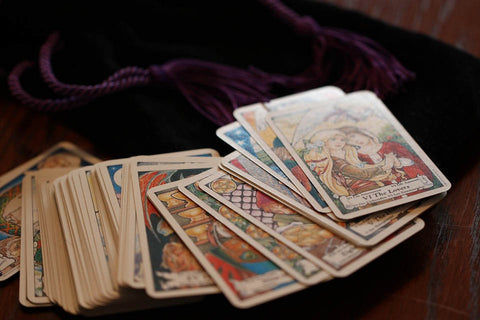 Is your aim to have the Tarot card?
Some people want a deck or even a few decks, and they are unlikely to read or learn the tarot.
They are looking for an exciting ornament or item for a supernatural party.
In this case, tarot cards with good artistic merit or strange might be a good choice.
Is your aim to be a tarot reader?
If so, the cards chosen should be symbolic and inspire intuitive insight.
It is essential to select a deck from attractive tarot cards.
After all, who wants to spend hours in front of an unattractive tarot card?
Is the goal going to be a severe tarot learner?
If so, it is essential to choose a tarot card with a long history.
This kind of tarot card can be found in many books and reference materials to make learning easier.
This kind of tarot card comes with a complete book that describes the meaning of each symbol on the card.
Choose the Tarot Key Points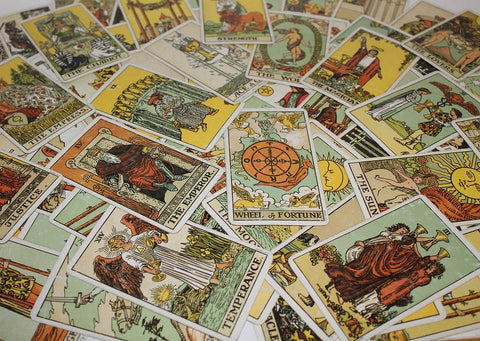 Full illustration Tarot card
Many of the Tarot cards have vivid images, while others show only illustrations of the Grand Arkana and court cards. Reading a card with only four elements (scepter, grail, sword, and star coin), marked from ace to ten order, is a challenge, so the full illustration painted tarot works best for an intuitive user.
Style
Different tarot cards have different visual styles. Some people believe that thick lines and bright colors enhance the authenticity of tarot cards.
Some people think such cards are out of date.
Some people like elaborate drawings in watercolor or colored pencils;
Others prefer computer-generated images.
No style is right or wrong; the Tarot master should find a style that suits them.
Size
If you want to acquire a deck for learning purposes, a large tarot deck with clear illustrations may be the best choice.
But on the other hand, smaller cards are easier to shuffle.
So before buying a tarot card, the tarot master should try to create a mock-up to determine the size of the card for comfortable use.
Is there a perfect tarot card?
Not every tarot card has only one purpose.
A tarot reader's preference may change as time goes on. The sapiential tarot reader is not too obsessed with finding a perfect card but more focused on testing and finding a healthier tarot card.
The perfect tarot card may be the one that is best for you now.
Five significant tips for buying the Tarot brand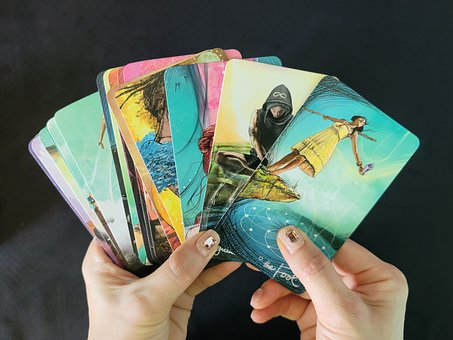 1, Chose the most popular tarot card
It is recommended that beginners choose a famous tarot card to learn resources from websites and books. The most popular tarot brand globally is Rider-Waite Tarot; many books and materials are based on the Waite Tarot. For beginners, it is easy to find relevant information and primary users. 
If you choose other cards, the explanation of the Waite Tarot can not be applied entirely up, so that for beginners, learning and use are not as smooth as choosing the Waite Tarot.
2, Choose your favorite tarot card
Tarot is just a tool and ultimately requires the user to use their intuition to understand the meaning contained in the pattern. So, your feelings about the card are significant. 
Choosing a pair of tarot makes it easier to focus on understanding every detail in the card. For beginners, if you can find an eager to learn and like cards, of course, the best, but if you like the card is more special how to choose? For example, the Thoth Tarot pattern is very abstract and not understandable after reading. The relevant online materials and books are very few, so beginners can not use them even if bought. 
So it's still recommended that beginners choose an easy-to-learn card. After having a basic understanding and learning about tarot, you naturally know how to select the card you like.
3, Choose a master designed tarot card
The design of the tarot is exact, every image, symbol, color, structure on the card has its specific symbolic significance, and only study Tarot and related background knowledge for many years of tarot master are qualified to design tarot. 
4, Chooses intuitive cards with patterns
For example, the Waite Tarot card, which contains the interaction of characters, is straightforward to make people associate; even if you do not have much information to learn, you can also get some intuitive inspiration from the pattern.
Thoth Tarot cards were designed by a western master of occultism, who incorporated astrology, mathematics, and the Chinese Book of Changes into tarot cards. If you lack relevant knowledge, you may not understand the meaning of the cards, so it is not suitable for beginners to use them.
5, Choose a sound quality card
Choosing a good, guaranteed deck of cards can be learned and used for a longer time, although more expensive, but also worth it.
Tarot card recommendation
For beginners or beginners, recommend two Tarot cards:
The Rider Tarot and The Neo Rider Tarot Collection
These two tarot cards are easy to use and easy to carry, and perfect for beginners.
If you already know the tarot and want to try more Tarot types and find the Tarot brand better for yourself, then take a look at our "Tarot Card and Oracle Card"collection.
This collection of tarot cards is our selection from over 180 popular tarot cards.
We screened the tarot cards from multiple dimensions such as the country of production, designer, illustration, theme, connotation and so on, and finally selected the most suitable and used tarot cards.
In the process of browsing, if a glance, attracted to a particular tarot card, then, means that it is the unique tarot card that belongs to you.