About This Item
Crystal Pyramid: pyramids have four triangular sides and a square base. The healing crystal pyramid stabilizes the energies of the earth while enhancing and projecting points out the apex. Crystal pyramid energy is a mysterious electromagnetic that can reduce electromagnetic radiation's adverse effects, improve memory and thinking ability, and promote physical strength and power.
Multifunction Crystal Gemstone Pyramid: natural healing crystal pyramid will help focus energy, activates, clear, transmits balance, happiness, love, luck, and transduces thoughts and energy. Great for chakra balancing, reiki healing, meditation, crystal grid, home, office, and desk decoration.
As a natural crystal ore processor, we know very well the tempers and qualities of various stones. They all have their personalities, and we know how to make them harmonious with each other.
Only use pure natural crystals as raw materials; we are sure that crude ores have spirituality and function, which is the basis of all parts.
We provide spiritual protection from 7 Chakra crystals and a Clear Quartz Obelisk with copper wire at the top.
Using a completely environmentally friendly natural resin, using a unique manufacturing process to increase the product's durability, my Pyramid can withstand temperature differences and harsh environments, surpassing most similar products on the market.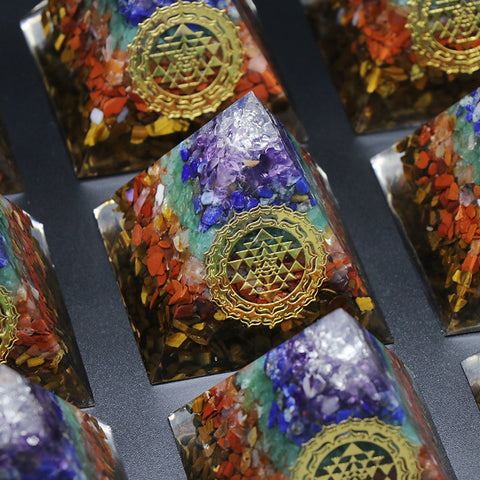 Product details
Specifications: 2.36x2.36x2.36 inches(LxWxH).
Package: 1x crystal pyramid.
Material: rose quartz crystal, clear quartz, citrine, resin mold.
Purely handmade, each product has subtle differences and is unique.
What is Orgone?
Orgonite is a mixture of catalyzed fiberglass resin with metal shavings, particles or powders, poured into molds. It is said to attract aetheric energy similarly to Reich's accumulators. Some people also add a couple of crystals to the mixture for their ability to make the energy more coherent or to enhance the working the orgonite.
Thus orgonite basically is a substance which functions as a self-driven, continuously operating, highly efficient energy transmutation device, drawing in negative life energy and transmuting it into positive energy. The resin in orgonite shrinks during the curing process, permanently squeezing the quartz crystal inside which creates a well-known piezoelectric effect inside the crystal, meaning its end-points become polarized electrically, this apparently causes it to function more effectively as a positive energy generator.
The word orgonite comes from "orgone", the name given by Wilhelm Reich to vital energy found everywhere in nature. It is life energy, also called Ch'i, Prana, and Aether. This vital energy exists, in a natural way, under many different forms. It can be neutral (OR=orgone), positive (POR=positive orgone energy) or negative (DOR = deadly orgone energy). When positive, it enables living organisms to exist in a healthy state. Reich did a lot of research on the properties and behaviors of this energy.
He built an orgone accumulator out of alternate layers of metal and organic material. He also observed that OR was able to neutralize nuclear radiation.
It is important to understand what DOR is. DOR is (POR), but "armored" as Reich called it. "Armoring" means that the life energy does not flow freely anymore, but has been encapsulated into a rigid form. When a knight puts on his armor, he cannot move freely anymore; he is restricted in his movements.
The same with energy: when energy gets "armored" it does not flow freely anymore. Look at nature. When water flows freely, is full of vitality and life in it flourishes. When water becomes stagnant, it becomes like a stinking pool, and life in it dies. DOR is negative, that is, it suffocates life forms. It creates disease, and ultimately it will cause death. DOR energy is primarily human made, by technology, like machines and microwave transmitters, chemical pollution, physical destruction of the landscape, but also by human emotions.
A place where a violent death occurred, for example, will retain the DOR imprint on that location for a long time. A house where the inhabitants have a lot of negative emotional outbursts will also be laden with DOR. The human body itself can also be armored, that is, by life long emotional problems; man's creative expression can be blocked or dammed up, causing contraction of his energy system, quickly or slowly leading to disease.
As human beings we are open energy systems. This means that we cannot shield ourselves completely from our environment. We are constantly subjected to the energies in our environment. They affect us whether we are aware of it or not. Therefore it is important to transform any DOR that comes to us into positive POR.
What are the benefits of orgonite?
The effects of orgonite differ from person to person. Some feel the energy straight away (usually as a tingling or warm sensation) while for others the effects are cumulative. The most commonly reported effects of orgonite are:
• Better sleep and vivid dreams
• More energy
• Balanced moods
• Decreased sensitivity to EMFs
• Spiritual and psychological growth
• Increased resistance to illness (orgonite should never be used as a substitute for professional medical care)
Here are the basic properties of orgone energy.
Organic materials attracted and held orgone energy.
Non-Organic metal materials attracted and then rapidly repelled it.
It fills all space and is everywhere.
It's mass free and is the primordial, cosmic energy.
It penetrates matter, but at different speeds.
It pulsates and is observable and measurable.
It has a strong affinity and attraction to/by water.
It is accumulated naturally in the living organism by ingesting foods, breathing, and through the skin.
How to Use Orgonite with Feng Shui
Feng Shui is an art that was developed in China over 3000 years ago. Feng means wind, and shui means water. Wind and water are associated with good health and fortune in Chinese culture. Feng Shui is a body of knowledge that reveals the ways in which to balance the energies of a space in order to bring good fortune into your life. Feng Shui has gained a lot of popularity in the West, and orgonite gives us another tool with which to apply Feng Shui principles.
First of all, simply placing orgonite in your home will do a lot to balance the energies and the energy flow inside it. However, we can also place orgonite strategically in order to further improve the energy flow.
If you have an area of your house that feels "off", place orgonite in this area in order to improve its energy. If being in a certain area of your house makes you feel tired and lethargic, this is the first place you should put orgonite.
Electrical appliances can create chaotic energy. Place orgonite next to or on top of devices such as computers, refridgerators, clock radios, televisions and cordless phones.
For maximum effectiveness, make sure that your orgonite pieces are distributed as evenly as possible in your home. A popular practice is to grid all four corners of a room or a house with orgonite, ensuring maximum coverage.